What would it cost to move to Adelaide?
Similar to moving to other Australian cities, numerous elements determine your removal costs.
The total volume of items
The distance of the journey
Accessibility of your properties
Additional requested services
Cost of applying for a parking permit.
If caught in traffic, expect 30 minutes to an hour of extra travel time. For a removal company, this means increased prices so it is in your best interests to avoid congested areas as much as possible.
Here are the average costs of removals in Adelaide, for either short or long-distance moves. We have included the prices for extra services as well.
Average cost of local and long-distance moves
| Number of Rooms | Local | Long-Distance |
| --- | --- | --- |
| 1 | $150 - $350 | $400 - $500 |
| 2 | $265 - $400 | $450 - $600 |
| 3 | $400 - $650 | $800 - $900 |
| 4 | $650 - $850 | $900 - $1,000 |
Removal services
Option
Benefits

Price

Parking Permit
- Ability to park in front of property
- Price depends on your area

$15 - $35

Disassembly and Assembly
- Help with assembly/disassembly of furniture

$125

Storage
- Space if you cannot move immediately

$30 per week

Cleaning
- Cleaning of old and new house

$15 per hour

Piano Removal
- Proper care and specialist equipment for safe removal
- Remove and replace doors or windows for access

$120 - $480
Removals Adelaide: Manage your move properly with a removalist
Researching removalists in Adelaide can be a difficult task due to the high number of moving companies. How do you know if the company you come across is reliable and able to transport your valuables? By comparing removalist and their price offers, you'll find the best option for you and with savings of up to 40%.  Save now with our free form and get quotes from up to 5 companies.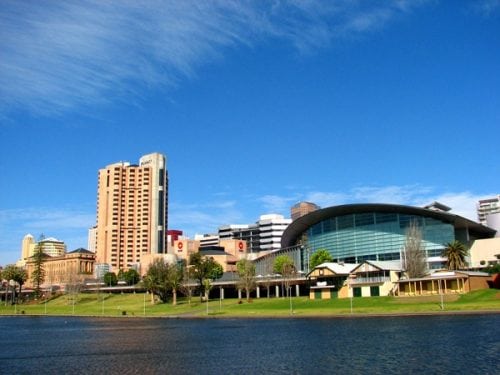 Life in Adelaide
What you need to know before you move in this city
1.3 million people live in the Adelaide urban area, making it one of the most lively city centres in of Australia. However, there are not crowded city centre streets. It's a university city, in a safe environment, with a good transportation system. Adelaide is fantastic for those who enjoy the outdoors.
In Adelaide itself, there are numerous parks and greenspaces. The city combines a friendly village vibe with the busyness of a bustling city.
Cost of living
Compared to Sydney, as in many other cities in Australia, prices in Adelaide are much lower. Due to lower costs and a strong economy, Adelaide is a great place to live. A few numbers on the cost of living are shown below:
Average house rent: $1500
Average flat rent: $700
Average cost of a meal: $15
Average cost of a pint: $5
What you can do to reduce your removal company costs
There are a number of tips and tricks you can use to your advantage in order to drive your removalists costs down, even with the best quote we will help you get. Here we break down the most important factors that have a direct influence on your final removal company costs.
The biggest price factor is the amount of items you intend to transport. The longer the list, the more removalists you will need to hire at the usual rate of $20 / hour, and each of them will have to work longer. Moving is a great opportunity to remove some clutter, so think carefully about what you really want to keep and what you can leave behind.
Next comes timing, which we already mentioned above. Avoid peak times (holidays, weekends, beginning / end of month) when removalists charge considerably more for the same service.
Last but not least, packing is a significant item in your total removal company costs. Having professionals handle it has the advantage of saving you the hassle, and it usually places the liability for transportation damages squarely with the company. On the other hand, you can save a small fortune if you take the time to pack up your belongings yourself.
Prepare for your move to Adelaide
As with any move, you will need to register for council tax at your new area and inform your old council about your new address. Visit each city council's website for details on registering for council tax, such as the Adelaide city page. You will need to provide:
Your name
The address you are moving from
Your council tax number
Your new address and moving day
The details of your house sale and purchase/lease agreement
There is also the issue of settling into your new area. One way to ensure this is to know the rubbish collection schedule for your neighbourhood even before you move in. Your collection days can be found on the local city council website as well.
During this time, we recommend researching about the bulky and hazardous waste collection services that your local government provides. This is important because after a move, you might find that some of your furniture is actually not necessary at your new place. Also, alternatives to this include donating to a charity or consulting your removals company in Adelaide about disposal. Some removalists offer a disposal service that might come in handy after your moving day.
Save 40% on your Adelaide removalists by shopping around
Finding the right removal company is helpful to any move, whether you are moving to or within Adelaide. Ask professional removalists to examine your belongings, give advice, and plan the logistics of your move. But with many companies available, your best bet is to compare their prices. Fill in our form with your details and receive up to 5 quotes the next day—with no hassle, you will be able to identify the right removalist at the right price.