If you are moving to Perth or within the city itself, hiring a removal company will be incredibly beneficial. Other than transporting your items, there are several services that can make your move much easier. Keep on reading to learn more about moving to Glasgow, the price of removals, and the advantages of professional removers for your move to the city.
Removals Perth: Pricing their services
Similar to moving to other cities in Australia, if you want to estimate the costs of hiring a removal company, there are several factors. This include:
The total volume of items
The distance between your properties
Ease of access to your old and new home
Extra requested services
Since Perth is a major economic and cultural hub for Australia, congestion problems are natural. Having some of the country's busiest roads, Perth can be a nightmare to navigate, especially during peak commuting hours. Keep this in mind when planning for your moving day. If your moving company charges by the hour, any time spent in traffic could drive up your expenses. Chart out a congestion-free route or be sure to have enough space in your budget to cover these unexpected costs.
Average cost of local and long-distance moves
| Number of Rooms | Local | Long-Distance |
| --- | --- | --- |
| 1 | $150 - $350 | $400 - $500 |
| 2 | $265 - $400 | $450 - $600 |
| 3 | $400 - $650 | $800 - $900 |
| 4 | $650 - $850 | $900 - $1,000 |
Removal services
Service
Packing Cost (Per Hour & Per Packer)

Cost Per Hour (2 Hour Minimum)

Disassembly and Reassembly
- Help with assembly / disassembly of furniture

$125

Storage
- Space if you cannot move immediately

$30 per week

Cleaning
- Cleaning of old and new house

$15 per hour

Parking Permit
- Ability to park in front of property
- Price depends on area and trade association membership

$30 - $75

Piano Removal
- Proper care and specialist equipment for safe removal
- Remove and replace doors or windows for access

$120 - $480
In a crowded city like Perth, parking will be an issue. Space is limited as local authorities heavily controls who can or cannot park in certain areas. If your movers receive a parking ticket, they will pass down the costs to you, adding unexpected expenses to your already tight budget. That is why it is in your best interest to apply for a parking permit, suspension, or dispensation with your local city council well in advance. Fees and notification limits vary, so visit their city website to find exact details.
Compare companies and save
For any move in and around Perth, a removal company will be able to help. Have a simple, straightforward move by hiring professional movers to deal with the required tasks. The best way to narrow down your list of companies is to request multiple non-binding quotes for free. In just 1 minute, you will receive up to 6 price offers from removal companies in Perth.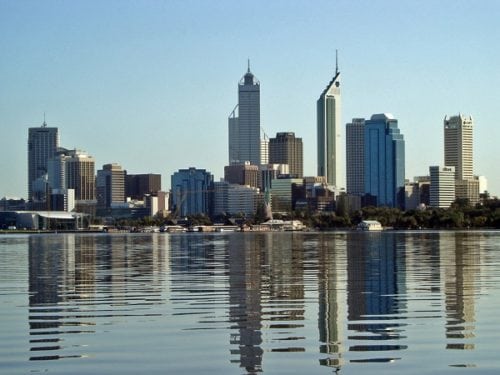 Living in Perth
Perth, with around two million inhabitants, is one of the largest cities and the capital of Western Australia. With a dry, sunny climate, clean water and air it is an incredible place to live.
Although prices in Perth are higher than most places in Australia, the cost of living is lower than Sydney. The properties closer to the city centre are pricier than areas farther away, such as the suburbs or nearby towns. Here are a few numbers about living in Perth:
Average house rental price: $1000 – 2000
Average flat rental price: $600 – 1000
Average cost of a meal: $25
Average cost of a pint: $5
What you need to get done after you move to Perth
We know that moving house is a chaotic and tiring time and that you probably want to make it much easier to handle. The best way is to be fully prepared and proactive.
One of the first things you should arrange for is to register for council tax. After your move to Perth, and even before, take a look at the tax rate you will pay, which depends on the value of your property. Also, the payment procedure will change depending on where you live so check with your local city council—usually, you are able to pay online, through direct debit payments, bank transfers, or credit card.
Another thing you should look at well in advance is the schedule for rubbish collection in your neighbourhood. Most local city council websites have a postcode checker to find out which day your rubbish will be collected. Knowing this beforehand means that once you have moved into your new house in Perth, you can clean your home quickly and efficiently.
While moving, it is common to have large unwanted things such as furniture or broken items that don't belong in your new house. As such, you should know the procedure of bulky item disposal. There are recycling or reuse centers located throughout the city which will accept these large items.
Removals Perth: What's the point?
Your move does not have to be as stressful as you expect. It is part of professional movers' job to make sure that this is the case. Take note of the various benefits of hiring a removal company:
Moving management: Removers will assist with planning and organising any and all aspects of your move. With further services such as packing, cleaning, and admin, you can have a customised moving package that will look after you and any requests you might have.
Your own personal driver (sort of): Driving through hectic and unfamiliar streets on your own only slows you down and adds a few gray hairs! Instead, a moving company will act as your personal driver, navigating the busy road network to get you to your new home as quickly and smoothly as possible.
Safety for you and your family: A reliable removal company provides specialised training to its movers, meaning that they have the knowledge and expertise to properly handle your prized possessions. You also don't have to risk your own safety by leaving the heavy lifting to the movers! Also, extensive insurance coverage is available to make you feel more at ease.
Find the right Perth removal company at the right price
Perth has plenty to offer—a good way of living, plenty of parks, a vibrant centre full of museums, and great variety of food offers. If you are eager to experience life in one of Australia's biggest city, start preparing for the big move! Research your removal company options thoroughly— send a no-obligation, free quote request in under 1 minute. Soon reliable, 6 local moving companies will get back to you with their best offers, and you will benefit from savings of up to 40%.